Corporate
The need of consultancy with regards to corporate law frequently arises not only in important strategic decisions but also in everyday business. We provide small, medium-sized and large companies with comprehensive advice on all areas of corporate law. The range of consulting services extends from the choice of legal form and the establishment of the company to accompaniment in transformations, restructuring in the event of a crisis or corporate succession. We provide our services irrespective of the company form, also to private foundations and associations.
Our consulting services are tailored precisely to your commercial goals. While drafting the articles of association, we develop individual solutions with you and take into account possible future scenarios. This not only requires specialist legal knowledge but also an in-depth understanding of business matters. Our lawyers are seasoned professionals who have years of experience in advising companies of all corporate forms. They explain to you courses of action that are tailored to your requirements and develop commercially expedient and future-proof solutions with you.
Advising with regard to corporate law is complex and integrated. We, therefore, provide you with comprehensive advice on all issues of tax optimization of corporate structures and also involve experienced specialists from the capital market, labor and competition law.
The focus areas of our range of consulting services are:
choice of the legal form and formulation of articles of association that are also sustainable in the future
corporate governance, in particular formulation of codes of business for managing directors, members of the Management Boards, Supervisory Boards, and Advisory Boards
measures of capital procurement such as capital increases, shareholder subsidies, silent partnerships, profit participation rights, shareholder loans, subordinate capital, convertible bonds, participating loans
preparation and carrying out of shareholders' meetings, in particular general shareholders' meetings of joint-stock companies (listed on the stock exchange)
advising the corporate bodies on issues relating to liability, in particular in issues of raising and preserving capital
liability of managing directors and members of Management Boards and Supervisory Boards
formulation and implementation of employee participation models
solutions to conflicts between shareholders or between shareholders and corporate bodies
merger, spin-off and real division of companies, the contribution of companies or shareholdings
formulation of syndicate agreements
consulting and representation in proceedings to verify the conversion ratio in the event of a merger or the cash settlement with the exclusion of minority shareholders
appealing against shareholder resolutions
provision at short notice of shelf companies off all legal forms
Teamleader
Tomasz Szarek >
Team
Dr. Wojciech Dubis >
Konrad Schampera >
Dr. Marcin Śledzikowski >
Downloads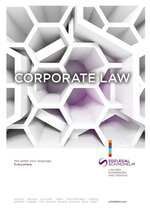 Folder Corporate-law
Corporate / M&A
Corporate
M&A
Corporate Sucession